The Sohrab Pirojsha (S.P. Godrej) Environment Award, a joint initiative of Godrej Group and Mumbai First is dedicated to recognize and celebrate "Environment Champions" who have made significant contributions to the field of environment and sustainability in Mumbai.
Last Date For Nomination: 15 October, 2023.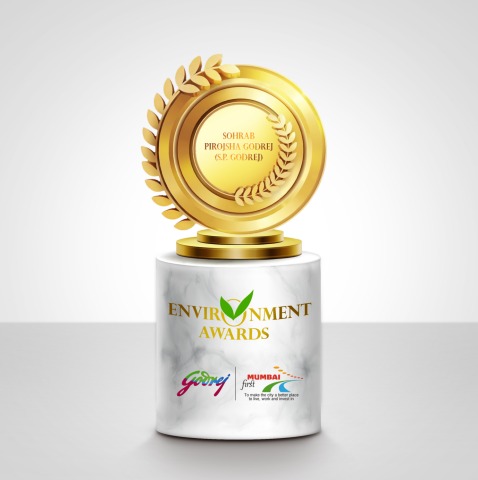 Let us inspire others to protect our planet.
Mr. Suresh Lulla
Founder & Managing Trustee of Qimpro Foundation
Dr. Shyam Asolekar
Professor, Centre for Environmental Science and Engineering, IIT Bombay
Dr. Rakesh Kumar
Former Director, CSIR-National Environmental Engineering Research Institute
Mr. Roger C.B. Pereira
Vice Chairman, Mumbai First
Ms. Nandini Dias
Executive & Governing Boards Member, Mumbai First
Quotes From Esteemed Jury Members
At Godrej, we are deeply committed to environmental protection. Like my uncle Sohrab, we view it as a responsibility, not a choice. The Sohrab Pirojsha Godrej Environment Award is a monument to his legacy. S. P. Godrej, a World Wildlife Fund founding member in India, played a pivotal role in making the country a refuge for a significant tiger population and expanding Mumbai's mangrove conservation. Let's honour him by celebrating the tireless efforts of our Environment Champions.
S. P. Godrej was a timeless inspirer well ahead of his time. He lives on even today with his eternal message of the critical importance of environmental protection as a key to our sustainable future. The awards created in his name for championing this noble cause will inspire generations to come.
Mr. S. P. Godrej was a man born much before his time! He devoted his entire life, giving of his Time, Money & Talents, unstintingly to the cause of the Environment, literally 24×7. I feel really fulfilled that Nadir Godrej has whole heartedly supported Mumbai First in its endeavor to commemorate this giant of a human being.